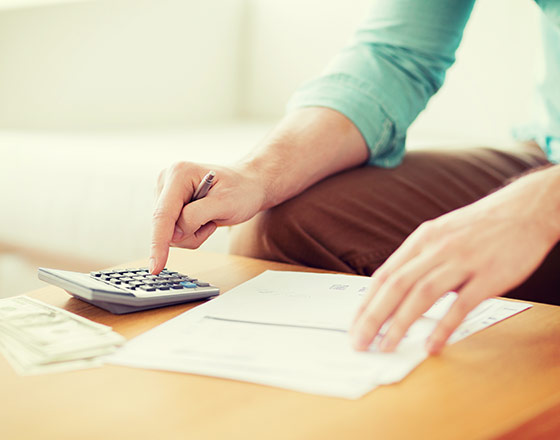 When you're ready to sell your currency of choice, it can be daunting to know where to begin, who to trust, and how to proceed safely, confidently, and swiftly with the transaction. In fact, the questions we receive by far have to do with redemption transactions:
How do I get started?
What do I need to make it happen?
How long will it take?
How does shipping work?
Although we answer popular questions in our FAQ and provide a simple video walkthrough, it can be helpful to have a comprehensive, chronological guide at your fingertips. If you take the process step by step, we believe you will find it straightforward. Plus, we are available via live chat on the site or by phone should you need help.
Note: while this process applies to any currency you wish to redeem with us, we will include additional information specific to the Iraqi Dinar for completeness, noted with "IQD".
Day 1—Ready to sell!
The Decision to Sell...
It begins with the decision: You're ready to sell your currency, whether it be Iraqi Dinar, Vietnamese Dong, Indonesian Rupiah, or any of 70+ other options. You did the research to be sure you are working with a reputable dealer, and that brought you to us. Great! Let's proceed.
The Website Basics
Log onto our website, select "I would like to sell currency", pick your currency, and enter your denomination. You will immediately see a range in redemption value, updated by the day based on current exchange rates, demands, and total circulation. We work hard to offer our customers the very best rates we possibly can.

Next, you will need to either create an account, or sign in if you already have an account. If you're a returning customer, you basic information will be conveniently (and safely) saved from your last transaction. Otherwise, you will enter that information now.

Picking a Shipping Method
After entering your basic shipping information, you arrive at your first major decision of the selling process: how to ship your currency.
Historically, the only option was to visit your carrier of choice, buy a shipping label at the expensive "rack rate", and mail your package through that carrier. While that option is still available, we now offer a solution that's better for the customer in virtually every way: cost-savings, time-savings, reliable delivery, and superior tracking.
We call this option Preferred Shipping.
With Preferred Shipping, we create your FedEx shipping label at our reduced vendor rates, yielding an average customer savings of about 15% over the standard walk-in FedEx rate.
You then print the label from the comfort of your home, tape it to your package, and drop it off at any FedEx store or drop-off location. We can then provide shipping updates throughout your order without you having to lift a finger, and the label cost is added transparently to your redemption total for maximum convenience.
For most customers, Preferred Shipping is the no-brainer best option for shipping currency. Whatever the case, make your Shipping Method selection, and move onto Payment Method...

Picking a Payment Method
Similarly to shipping, we now offer a vastly superior payment method: direct deposit. It's easier, faster, and cheaper to receive your payment directly into your bank account versus a mailed physical check, arriving in your bank account the next business day after your notes have been processed (more on this below). It also eliminates the risk of extreme weather interference or lost packages standing between you and your money—not to mention saving you the trouble of depositing the check and waiting for it to show up in your account.
We pride ourselves on offering the fastest redemption payment in the industry, and our direct deposit option takes this to another level. Whatever you select, choose your payment option, review your order details one last time, and click "Place Order".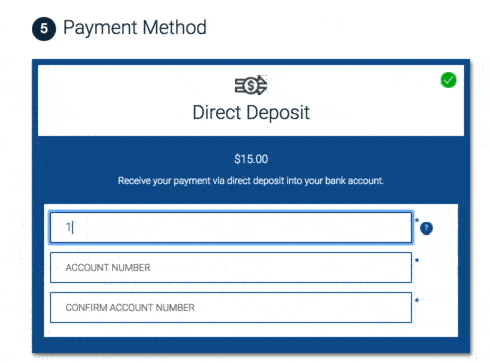 "Place Order"—Now what?
You've confirmed shipping and payments, reviewed your order, and clicked "Place Order". But your currency is still sitting on your shelf, or perhaps in a shoebox under the bed. So what happens next?

The important thing we need before you ship
Before you begin the process of actually packaging and shipping your currency, there's one important thing we need from you that isn't required in the checkout process: proof of a valid government-issued ID in the seller's name. By far your easiest option is to take a picture of your driver's license or passport on your phone, then text or email it to us. Don't worry, once we have this on file, you don't need to resubmit it for future orders.
Call it a day (or continue)
Provided the ID is valid, that it is submitted before 4pm ET, and there are no other issues with the order, we process each order and ID verification on the same business day. For the purpose of this guide, we will presume your order was placed after 4pm, and continue on a hypothetical "day 2" of our redemption below.
Day 2—Pack and ship.
While it's entirely possible that your order and ID will be confirmed on the same day, orders placed during particularly high volume periods, late at night, or over the weekend will typically be approved early the following day.
Your Return Authorization (RA)
Once we receive and verify your government ID, we will email you a Return Authorization (RA). Your RA contains the unique identifying markers of your order, allowing us to be certain that the ID you provided is the actual source of the currency we receive.

Your RA is important for another reason: once you receive it, you have 5 days to get your currency to us. If you used our Preferred Shipping option, this gives you three days to pack and ship your currency under our 2-day option, and four days if you selected standard delivery. We will assume in this example you chose "standard delivery".
Assemble your packing supplies
It's time to assemble your shipping package like a pro. To begin, you're going to need the following:
Your redemption currency (of course!)
Your printed RA
1 plastic bag
1 shipping envelope
1 secure shipping box
Plenty of packing tape
Packing material (bubble wrap, newspaper, etc.)
Your shipping label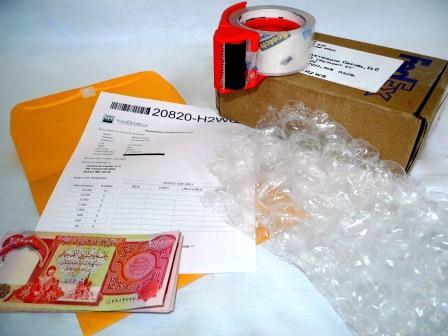 IQD: Handling your currency
Before we begin, we can't overstate the importance of delicacy in handling the notes you intend to sell. The standard for "uncirculated" Iraqi Dinar notes is incredibly stringent. In short, they must be:
Immaculately clean
Perfectly flat when stacked, with a clean edge
Free of bends, creases, or folds
Untouched by paper clips, rubber bands
Unharmed by extreme temperature, light or humidity
Unless your notes have handled with extreme care and transported only under the most gentle conditions, you should expect at least some of your notes to be graded as circulated. Just because you purchased your notes as "uncirculated" from a dealer offers absolutely no guarantee they will be treated as such in our grading system (we'll tackle counting and grading in depth below).
Thankfully, once a note is circulated, it does not significantly depreciate with normal wear and tear except in the extremes of torn or incomplete notes.
Finally, it's worth noting that despite some erroneous reports that pre-2014 Dinar are somehow devoid of value due to new security measures, this is absolutely not the case.
Securing your currency
Let's start by securing the currency itself. If your notes aren't already secured within a plastic bag, do this first. If you are aiming to redeem your notes as uncirculated (and believe they qualify based on the information above), it is impossible to be too careful during this process.
At the same time, we recommend you carefully count your notes to be positive you are shipping the amount you indicated when placing your order.

Packing your currency
With your currency in a secure plastic bag, it's time to transfer the bag into a shipping envelope. This envelope is the ideal place to store your RA form. This is the unique identifier of your order, and failing to include it will require you to pay the return freight on your package, at which point you will need to begin the process again. Trust us, you don't want to have to do this—so be doubly certain your printed RA is in that envelope.

Next, put the shipping envelope into a shipping box—any sufficiently sized cardboard box will do—pack it securely with packing material, and secure the box with tape.

Taping up your box
With Preferred Shipping, you will need to print out and tape on the FedEx shipping label you selected. Be sure to use packing tape over the entire surface area of the label so that it is completely adhered to the box. Otherwise, it may be damaged or unidentifiable by the time it reaches us.

You did include your printed RA, right?

Time to ship!
With Preferred Shipping, all you need to do now is deliver your package to the closest FedEx store or drop-off location.
Congratulations! Your part of the redemption is done. It's time to let FedEx do what they do best: transport your package safely to our armored service grading site.
Day 3—Counting, grading and payment confirmation.
With overnight shipping, your notes will have arrived. What happens next?
From the moment your notes transfer from the care of FedEx to our armored carrier, your package's safety is ensured by video surveillance. A trained, experienced note grader will immaculately review your order, confirm quantity on a counting machine, and grade the quality of notes. As mentioned, the grading process is binary—your notes are either considered circulated, uncirculated, or in rare cases, too damaged for resale, in which case they will be returned to you with shipping costs deducted from your redemption payment.

The grader's assessment of the note value is final, so if you're still concerned about getting a fair deal on a large supply of notes, we recommend starting with a small test order.
Once counting and grading is complete—all orders received before 2pm are counted and graded the same day—you will receive an email notifying you of payment, which you will receive the following day by check or direct deposit.
Day 4—Paid!
Let's review this hypothetical order for clarity:
On day 1, you placed your initial order. If you placed the order before 4pm EST, then it is possible to actually combine day 1 and day 2's activities into one, getting paid a day faster.
On day 2, you received your RA, carefully packed your currency, and dropped it off with FedEx.
On day 3 (with overnight shipping), your notes were counted and graded.
On day 4, you received your payment directly in your bank account (with direct deposit) or by check.
And that's it! Your redemption process is complete, and if you initiated your order on a Monday, there's no reason you can't receive your redemption payment by Thursday of the same week.
We know this process can be complicated, which is why we offer phone and chat support. To make the process a little bit easier, we have included an infographic below summarizing all the information covered in this article. And if you're still feeling skittish, check out our 10,000+ customer reviews.