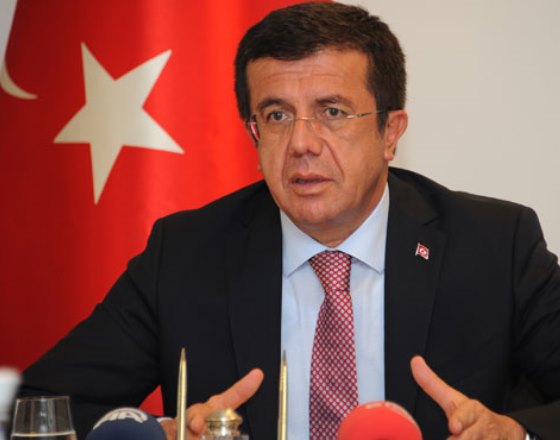 Turkey and Russia are exploring the option of using each other's local currencies in their respective countries, especially in the tourism sector, Economy Minister Nihat Zeybekci said on Wednesday.
Speaking at the Turkish-Russian Media Forum, Zeybekci said technical negotiations over the utilization of local currencies in trade between the two countries were progressing between the central banks of both countries, adding that the use of local currencies in tourism was one of the goals they were trying to achieve.
"Our goal is to have Russian citizens visiting Turkey, Antalya, pay in rubles and also let Turkish tourists visiting Russia pay in Turkish liras," Zeybekci said.
Regarding the deterioration of trade in wake of the last November jet crisis, which created significant tensions between the two sides, Zeybekci said he did not want to elaborate on the numbers since they were really disheartening and there was much to do to boost bilateral trade.
The minister is scheduled to meet Russian energy minister in October in Istanbul, where there will also be a major business forum within the scope of the Turkey-Russia Joint Economic Commission meeting.
Turkish Culture and Tourism Minister Nabi Avci said at the forum that Turkey was ready to do all the work necessary to take bilateral relations with Russia to highest levels.
"Some adverse events experienced very recently cannot damage the deep rooted relations in all aspects," Avci said, speaking about the crisis that began after Turkey downed a Russian jet at the Turkish-Syrian border for violating its airspace on Nov. 24 last year.
He also said Turkey was ready to do everything to improve ties with its old friend Russia in "political, economic, cultural and humanitarian fields."
Sixty-five journalists from Russia, including editors in chief and news directors of important media institutions are taking part in the Turkish-Russian Media Forum in Antalya together with their Turkish colleagues.   
original source: http://www.worldbulletin.net/turkey-russia-explore-option-to-use-local-currencies/176844/turkey-russia-explore-option-to-use-local-currencies