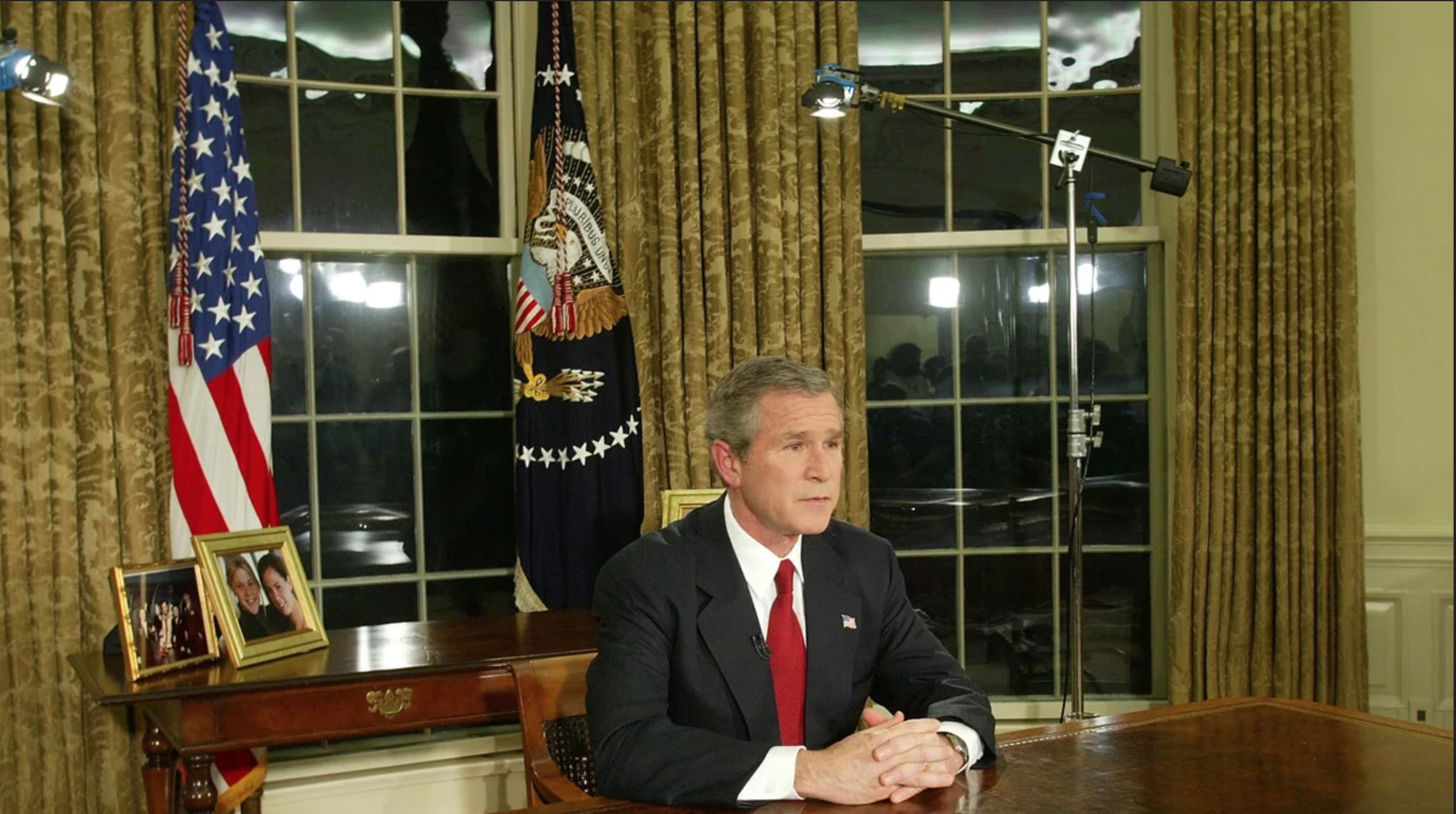 Nearly 20 years to the day the first bombs dropped on Baghdad in the U.S.-led invasion, the Senate has voted 67-28 to officially begin debate to repeal the congressional authorization that justified the war.
"I hope Republicans will work with us to keep this bill moving forward because AUMF repeal in the Senate is now a matter of when, not of if," Senate Majority Leader Chuck Schumer, D-N.Y, said ahead of the vote to advance the legislation Tuesday.
Last week, the Senate cleared another key procedural hurdle with bipartisan support to move toward debate. In floor remarks Tuesday, Schumer said given that support, "there's no reason to drag this out."
The bipartisan effort led by Sens. Tim Kaine, D-Va.; and Todd Young, R-Ind., repeals the 2002 AUMF under President George W. Bush that authorized the 2003 invasion, as well as the 1991 AUMF that authorized the first Gulf War under President George H.W. Bush.
The vote is largely symbolic — combat operations in the war ended over a decade ago — but Senate supporters say it is important for Congress to reassert its constitutional power to declare and end wars.
"Every year we leave this AUMF on the books is another year that a future administration can abuse it," Schumer said. "Congress — the rightful dispenser of war powers — cannot allow this to continue."
The Kaine-Young legislation does not impact the 2001 war authorization approved in the wake of the Sept. 11, 2001, terrorist attacks that continues to give the president broad legal authority to conduct counterterrorism operations around the world.
Some 2,500 U.S. forces are still active in Iraq. NPR has learned that just last month the U.S. took part in nearly three dozen partnered raids with Iraqi counterterrorism forces against ISIS, and 200 raids last year.
Democrats are united in support of the legislation, but the debate could highlight a rift inside the Republican Party between traditional foreign policy conservatives and the small but growing force of "America First" lawmakers who are more ideologically aligned with former President Donald Trump's non-interventionist views.
It also occurs as Senate Minority Leader Mitch McConnell remains absent as he receives in-patient rehab from a recent fall sustained at a Washington, D.C., hotel.
Young told reporters last week that it was not just about reasserting congressional war authority, but about sending a message to past and prospective military troops.
"We will not incentivize the next generation to step up and fill that necessary breach to defend our way of life so that the rest of us can sleep safely at night if they don't regard our actions here in Washington as responsible and consistent with the desires of the American people," he said.
One opponent, Sen. James Lankford, R-Okla., told NPR he has reservations because of the message he believes it sends to the region.
"I do have a problem when trying to be able to speak in to the Middle East right now and to say, 'We're leaving, we're backing away, we're not going to be as engaged,' when we certainly need to be," he said. "It's not just terrorism that we're dealing with in the region — though that's the dominant piece of what's actually happening from Iran right now in their promotion of terrorism in the region — but we still have very real threats that are there."
With roughly a dozen GOP cosponsors, the measure is ultimately expected to pass the Senate, but its overall fate remains uncertain.
A similar measure passed the Democratic-led House in 2021 with bipartisan support, but it's unclear if House Speaker Kevin McCarthy, R-Calif., will bring it up for a vote again. GOP Reps. Chip Roy of Texas and Tom Cole of Oklahoma are the lead Republican sponsors in the House.
President Biden has indicated that if it reaches his desk, he will sign it into law.