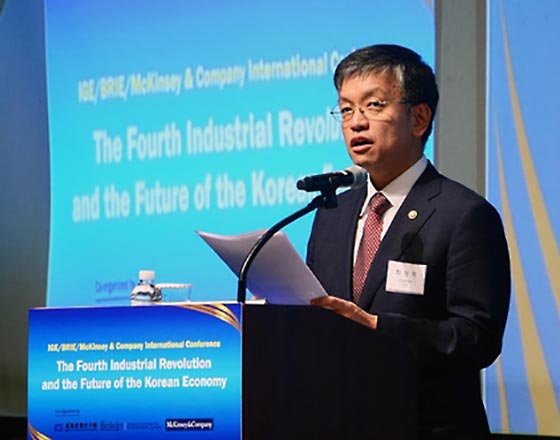 SEJONG, Oct. 28 (Yonhap) -- South Korea will invest 1.6 trillion won (US$1.4 billion) into fundamental technologies for the so-called "fourth industrial revolution" in the next decade in a bid to lead the new evolution trend, the country's top economic policymaker said Friday.
"The government will give full support to the development of new industries and technologies," South Korea's Finance Minister Yoo Il-ho said in a congratulatory speech, read by Vice Finance Minister Choi Sang-mok, in a conference in Seoul hosted by the Institute for Global Economics.
"We are planning to inject 1.6 trillion won in the coming 10 years to foster nine core technologies including artificial intelligence and virtual and augmented reality," he said.
Yoo said the government will give tax benefits to sectors of robot technology and futuristic cars in a way to attract extra private investments.
The world is currently facing a paradigm shift in the industrial sector, with the latest trend including cloud computing, Internet of things and automation in the entire production, management and governance system.
However, experts said South Korea lags far behind in keeping up with such changes, calling for a new set of strategies to participate in the global transformation and competition.
The finance minister said the government will also make efforts to reform the labor sector to deal with a possible change in the job market stemming from the fourth industrial revolution.
original source: http://english.yonhapnews.co.kr/business/2016/10/28/0503000000AEN20161028003300320.html