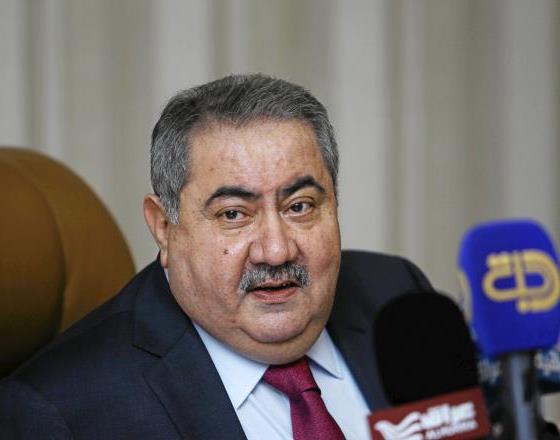 Iraq is ready to take part in an extraordinary OPEC meeting and even reduce its fast-growing oil output if all OPEC and non-OPEC members agree - a deal which at this stage seems elusive, the country's finance minister said on Wednesday.
Hoshiyar Zebari also told Reuters in an interview there are "encouraging signs" that crude prices could rebound this spring on lower output from higher cost U.S. shale oil producers. He said Iraq was willing to take part in meetings that Venezuela has called for in order to lift oil prices that have plunged to 12-year lows.
The Organization of the Petroleum Exporting Countries said it was considering a request from cash-strapped Venezuela to hold an emergency meeting. Venezuela has also called for a meeting of OPEC and non-OPEC nations in February.
OPEC's second-largest oil exporter, Iraq, produces about 4 million barrels a day of crude from central and southern regions where the industry is under the control of the Baghdad government, the oil ministry says. The self-ruled Kurdish region in the north produces 600,000 barrels a day, sold independently from Baghdad's central government.
"Iraq is a founding member of OPEC, so we will definitely take part, and the idea would be to reduce production actually to impact the oil price," Zebari said.
"Not sure we will say yes to Venezuela because we need to produce more, because of the challenges we have, but if we believe there would be a consensus, a collective decision then we might go with it."
So far, only Algeria and Venezuela have clearly expressed support for a production cut. Fellow OPEC member Saudi Arabia and Russia, a non-OPEC exporter, have not, Zebari said.
The decision to cut production "needs to be a collective one, otherwise it will not work; it doesn't seem there is a consensus, apart from Venezuela, Algeria," Zebari said.
"Other countries, the Saudis or the BRICS people I don't think," he said, referring to the group that comprises Russia and Brazil, along with India, China and South Africa.
Zebari said the reason many shale oil operators were still in business was that they had sold long-term contracts based on $70 oil, and these contracts will come to an end in the spring.
OPEC Secretary-General Abdullah al-Badri on Monday said other producers should work with OPEC to tackle swollen global stockpiles, essentially reiterating the group's position that it would consider cutting output only if others pitched in.
Moscow, seen as key to any agreement, has so far refused to cooperate. But Leonid Fedun, vice-president of Lukoil, Russia's second-largest oil producer, was quoted as saying on Monday Moscow needed to start working with OPEC.
BUDGET STRAIN
Oil prices have fallen to around $30 a barrel from over $100 two years ago, hurting Iraq's budget at a time when the country is fighting the ultra-hardline Islamic State. Iraq depends on crude sales for about 95 percent of its public revenue.
Zebari said Iran may not be able to raise output as fast as it hopes and expected a maximum additional output of 500,000 barrels a day by the end of the year.
The Baghdad government, at loggerheads with the Kurdish Regional Government (KRG) over selling oil independently, has kept the option open for the KRG to take its 17 percent share of the budget, blocked last year, if it agrees to stop oil sales.
"The oil price crashed, there is a reconsideration now" by the Kurdish government to take its share of the budget, he said.
The price crash has compounded Kurdistan's economic woes, which began in early 2014 when Baghdad slashed funding to the region over exporting crude on its own terms.
The government based its spending for 2016 on an oil price of $45 a barrel, and will seek to cut spending and increase domestic borrowing in order to plug the budget gap, he said, ruling out a devaluation of the local dinar.
"A devaluation will lead to inflation, it will lead to maybe more unemployment and we cannot do all these things at the same time as new taxes, new custom dues, it's an overload on the public and the government cannot afford that," he said.
Government spending will prioritize salaries and pensions, military operations needed to fight Islamic State, as well as basic health and social services, he said.
Iraq expects a budget deficit of about 24 trillion Iraqi dinars ($20.4 billion) this year.
original source: http://www.reuters.com/article/us-iraq-oil-opec-idUSKCN0V51ER