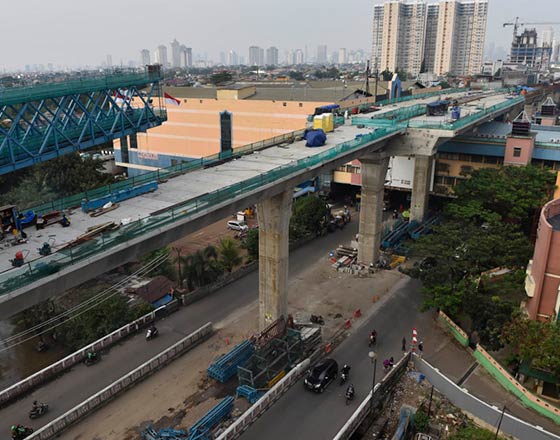 Jakarta. The prospect of receiving payment in rupiah is among the main challenges faced by foreign investors who want to put their money into Indonesia's infrastructure sector and prevents the country from tapping into a source that could make it grow at a faster pace, consulting firm PricewaterhouseCoopers reported on Tuesday (11/10).
While Indonesia is making progress in its infrastructure sector by increasing spending, easing the negative investment list which identifies the sectors open to foreign investment and cutting off red tapes, it has not convinced enough foreign investors to sink their teeth into it.
PricewaterhouseCoopers (PwC) said in the first semester foreign direct investment in infrastructure decreased to $1.97 billion from $6.02 billion in the corresponding period last year.
PwC reported that the government is not always cooperative in policy-making, as it always defers to the central bank's regulation that only allows payment in rupiah for all transactions in the country.
"Foreign investors want to put their money into new projects, especially building new airports, but unfortunately all payment has to be made in rupiah. This has discouraged them from investing as it heavily increases the risks of the investment," PwC Indonesia infrastructure adviser Julian Smith said.
Julian said there are plenty of obstacles for foreign investors who want to invest in the private sector — mostly uncertain legal framework, obscure project development, risk-averse officials, sudden government policy changes and limited budget for agencies.
On the bright side, the government has shown a newly found commitment to push through with major infrastructure projects.
President Joko Widodo recently inaugurated the Ranai Airport in Natuna, Riau Islands — the first in the border area. In early June, the government also completed a gas-fired power plant in Gorontalo, North Sulawesi, as part of a push to add 35,000 megawatts to the national power grid.
Government spending for infrastructure rose to Rp 317.1 trillion ($ 24 billion) this year from Rp 290.3 trillion in 2015.
The government also revised its negative investment list in May, allowing foreigners to fully own a business or hold a significant equity stake in telecommunication, energy and toll road companies.
To attract more foreign investment, PwC advises the government to speed up land acquisition process, improve coordination between government institutions and invest in finding more skilled workers for its infrastructure projects.
original source: http://jakartaglobe.beritasatu.com/business/foreign-investors-dont-like-getting-paid-rupiah-pwc-report/