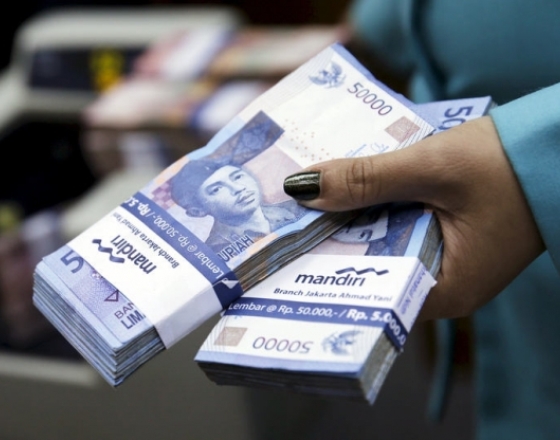 Most emerging Asian currencies slipped today, as top Federal Reserve officials continued to fuel expectations of an imminent rise in US interest rates, while regional equities slid to near 10-week lows.
China's yuan, however, gained as the central bank was spotted intervening to support the currency, traders said.
The Indonesian rupiah touched a 3-1/2-month low on suspected dollar demand linked to bond outflows. The Malaysian ringgit fell to its weakest in more than two months as falling crude prices underscored concerns over the country's oil and gas revenues.
Singapore's dollar touched a two-month low as leveraged funds unloaded it. Thailand's baht stayed near a 3-1/2-month trough after foreign investors sold local bonds yesterday.
The South Korean won hit a two-month low as offshore funds dumped the currency on the US dollar's overall strength.
Philadelphia Fed President Patrick Harker said yesterday that a Fed rate hike in June is appropriate unless data weakens, while St Louis Fed President James Bullard said holding rates too low for too long could cause financial instability.
San Francisco Fed President John Williams also said the US central bank is on track to hike borrowing costs in June or July despite risks, including Britain's possible exit from the European Union.
"FOMC re-pricing may continue to ensue with yield differential arguments continuing to lend support to the dollar — a near term view that we continue to ascribe to," said Emmanuel Ng, foreign exchange strategist at OCBC Bank in a note, referring to the Federal Open Market Committee.
Emerging Asian currencies are likely to stay significantly vulnerable to a stronger dollar and risk aversion, Ng said.
Rupiah
The rupiah fell 0.6 per cent to 13,660 per dollar, its weakest since Feb 9, as some major European banks sold the Indonesian currency, which currency traders suspected was linked to bond outflows.
Indonesia's central bank was suspected of intervening to stem the rupiah's weakness around the session low, traders said.
The rupiah has a chart support area between 13,665 and 13,674, analysts said.
The currency has a 200-day moving average at 13,665, which has not been broken since early February, and the 61.8 per cent Fibonacci retracement at 13,674 of its appreciation from December to March.
Investors were keeping an eye on a government bond auction later in the day as foreign investors turned to being net sellers of government debt this month.
The finance ministry aims to raise 12 trillion rupiah (RM3.6 billion) in the auction.
Ringgit
The ringgit lost as much as 1.1 per cent to 4.1290 per dollar, its weakest since March 16, as most Malaysian government bond prices slipped.
The Malaysian currency is seen weakening to 4.1340, the 50.0 per cent Fibonacci retracement of its appreciation from January to April, if it closes the day weaker than 4.0952, analysts said.
The ringgit has a 100-day moving average at the chart support as it has been ending daily sessions firmer than the average since late January.
Won
The won ended local trade down 0.8 per cent at 1,192.7 per dollar, the weakest since March 16.
South Korea's exporters took a breather, expecting further weakness in the won, traders said.
"Exporters seemed to consider when to sell the dollar for now although levels above 1,190 are seen attractive," said a South Korean bank trader in Seoul.
original source: http://www.themalaymailonline.com/money/article/fed-rate-hangs-over-asia-currencies-ringgit-and-rupiah-slide#sthash.oxsXICf8.dpuf