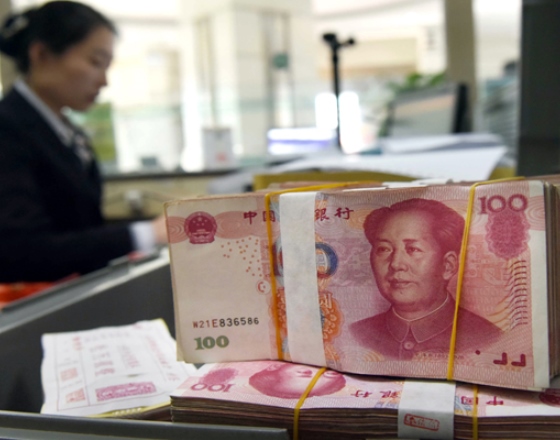 The yuan edged up against the dollar on Wednesday, and traders said the central bank was seen intervening in the offshore market to ease depreciation pressure on the Chinese currency.
Traders said the market was little fazed by fears of a spike in regional political tensions after an international arbitration court ruled on Tuesday that China has no historic title over the waters of the South China Sea.
The People's Bank of China set the midpoint rate at 6.6891 per dollar prior to the market open, 0.09 percent firmer than the previous fix of 6.695.
Spot yuan opened at 6.6883 per dollar and was changing hands at 6.6846 at midday, firming 0.12 percent from the previous close.
Traders also noted heavy bouts of dollar selling by state-owned banks in the offshore market in the morning, which resulted in a liquidity tightening in the offshore yuan and a brief price spike.
State-owned banks sometimes intervene on behalf of the central bank both onshore and off-shore to offset depreciation pressure on the Chinese currency.
The offshore yuan has fallen through the 6.7 level in recent sessions, its weakest since early January.
"There's no direct evidence saying the offshore intervention is linked to the South China Sea ruling," said another trader at a Chinese commercial bank in Shanghai.
"The central bank has already tightened up its defense since last Friday, given more and more people are talking about yuan depreciation these days."
"It looks to us that China's central bank intends to limit the upside of USD-CNY and USD-CNH for the time being, as a fast depreciation in CNY could trigger massive short CNY/CNH positions," wrote Zhou Hao, senior emerging markets economist at Commerzbank in Singapore.
The offshore yuan was trading 0.06 percent softer than the onshore spot at 6.6889 per dollar.
original source: http://www.brecorder.com/markets/fxmm/asia/308608-chinas-yuan-firms-central-bank-suspected-of-intervening-offshore.html