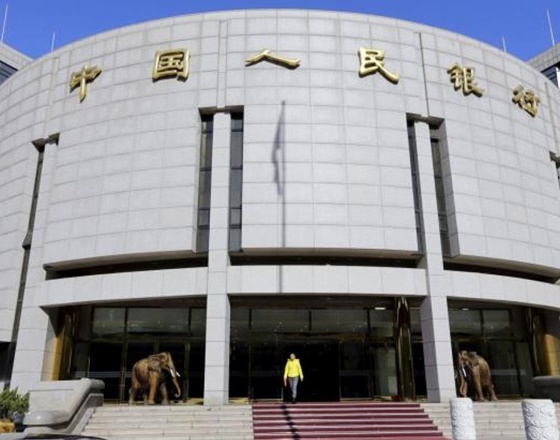 The yuan slipped against the dollar on Friday, within sight of its 5-1/2 year low set at the start of the week, coming under more pressure after Reuters reported that China's central bank is willing tolerate a 4.5 percent drop in the yuan for 2016.
The People's Bank of China set the midpoint rate at 6.6496 per dollar prior to the market's open, 0.28 percent weaker than the previous fix 6.6312.
Spot yuan opened at 6.6484 per dollar and was changing hands at 6.6533 around midday, easing 0.08 percent from the previous close.
China's central bank would tolerate a fall in the yuan to as low as 6.8 per dollar in 2016 to support the economy, which would mean the currency matching last year's record decline of 4.5 percent, policy sources said.
"Market expectations are always tilting towards depreciation since this year…4.5 percent fall for the yuan this year is possible," said a trader at an European bank in Shanghai. Another trader at a Chinese commercial bank in Shanghai said activity was subdued so far in the day. "Dollar demand and supply were in balance," he said.
If the yuan closes around the midday level, it would be down 0.4 percent for the week.
The Chinese currency fell 2.4 percent in the first half of 2016. After the Reuters report, both onshore and offshore yuan slumped, with the offshore rate sinking to 6.70 per dollar, a six-month low, on Thursday.
Traders suspected state-owned banks quickly stepped in to shore up the yuan in onshore market.
The PBOC criticised the media later in the day, saying some media continuously publish "inaccurate information" on the yuan foreign exchange rate, which help some "speculative forces" short the yuan, adding that China does not intend to compete in international trade by depreciating the yuan.
The offshore yuan was trading 0.26 percent softer than the onshore spot at 6.6708 per dollar around midday.
The yuan market at a glance:
ONSHORE: Item Current Previous Change PBOC midpoint 6.6496 6.6312 -0.28% Spot yuan 6.6533 6.648 -0.08% Divergence from 0.06% midpoint* Spot change YTD -2.40% Spot change since 2005 24.40% revaluation *Divergence of the dollar/yuan exchange rate.
Negative number indicates that spot yuan is trading stronger than the midpoint.
The People's Bank of China (PBOC) allows the exchange rate to rise or fall 2 percent from official midpoint rate it sets each morning.
OFFSHORE CNH MARKET Instrument Current Difference from onshore Offshore spot yuan 6.6708 -0.26% * Offshore 6.82 -2.50% non-deliverable forwards ** *Premium for offshore spot over onshore **Figure reflects difference from PBOC's official midpoint, since non-deliverable forwards are settled against the midpoint.
original source: http://www.financialexpress.com/article/world-news/chinas-yuan-edges-lower-on-report-c-bank-to-tolerate-weaker-yuan/303160/